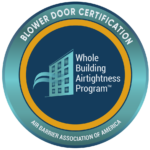 What is the Certification Program?
The Blower Door Technician certification is designed for those involved in airtightness testing of new construction or existing buildings, whether whole or in part.
Program Objectives
The objective of the Certified Blower Door Technician program is to ensure that a person has the knowledge, skills, and abilities to conduct a whole building airtightness test by following:
Appropriate test standards

Building code requirements

Project specifications
Benefits
ABAA-recognized certification
Peer and industry recognition
ABAA website search function will drive more business
Meet project prequalification requirements for whole building testing agencies
Recognized across state/national jurisdictions
Kept up to date with changes to standards, requirements, building codes and program requirements
Certified in accordance with ISO 17024 standards
Promotion of credentials to various audiences:
Green building programs
Leading specifiers and architectural firms
ABAA conference attendees, social media followers, and newsletter subscribers
Gain recognition with owners that require whole building testing and leverage ABAA's relationships with key players in the building community
Certification Scope
The blower door technician is responsible for all the tasks associated with creating and executing a test plan.
Creating a test plan
Organizing the equipment
Staffing
Security and safety issues
Preparing the building
Conducting the blower door tests
Notifying the contractor to return mechanical systems to pretest conditions
Removing temporary masking
Cleaning site
Reporting the results
The technician shall be able to conduct all types of blower door testing, including:
Whole building
Guarded unit testing
Unguarded unit testing
Zone testing
Partial construction testing
Other applicable blower door test set up
ABAA Certification Process 
The certification process is a multi-tiered program, offering two levels of certification based on your experience, skills, and abilities in large blower door testing that meets ISO 17024 personnel certification.
Recommended Knowledge and Skills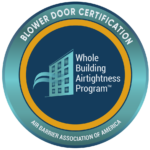 Building science
Construction of the common building envelope assemblies
Operation of mechanical and distribution system and how they could
impact the air leakage test
Blower door equipment
Whole building testing experience or related experience
Blower door software
Understanding of electrical / network / communication requirement for the equipment and software used for testing
Problem solving skill to trouble shoot both the equipment and the building test configuration.
Foundational: Level I – Is this Right for Me?
Level I is designed for blower door technicians with some experience testing mid-rise (3-story) buildings and businesses wanting to expand blower door testing to include large buildings.
Technicians who have completed the ABAA Blower Door Training
Current blower door technicians with some blower door testing experience either in a residential setting and/or with mid-rise (three story) buildings
Businesses or technicians involved in the air barrier industry and want to expand their current service offering
Expert: Level II – Can I Move to the Expert Level?
Level II is designed to fast-track experienced blower door technicians to certification and be recognized for their years of industry experience and extensive knowledge.
Level II is designed to fast-track experienced blower door technicians to certification and be recognized for their years of industry experience and extensive knowledge.
Highly seasoned blower door technicians who have conducted multiple tests on large buildings (suggested min. 20+ tests).
Experienced technicians who have completed the ABAA Blower Door Training
Level I technicians who have gained experience and now want to be recognized for their new level of competence
Level I
Level II
Track A
Track B
Track A
Track B
Track C
Track D
Member
(Non-Member)
Member
(Non-Member)
Member
(Non-Member)
Member
(Non-Member)
Member
(Non-Member)
Member
(Non-Member)
Program Certification
$495.00
($650.00)
$495.00
($650.00)
$595.00
($750.00)
$595.00
($750.00)
$595.00
($750.00)
$595.00
($750.00)
Training Manual
$100.00


($150.00)

$100.00


($150.00)

$200.00
($250.00)
$200.00
($250.00)
$200.00
($250.00)
$200.00
($250.00)
Annual Renewal Fee
$250.00
($325.00)
$250.00
($325.00)
$350.00
($425.00)
$350.00
($425.00)
$350.00
($425.00)
$350.00
($425.00)