View Complete ProctorU Instructions
What is an Online Proctored Exam?
Monitored through webcam & screenshare
Proctor has visibility of desk and control over all tabs
Executed remotely from ProctorU headquarters
Proctor available for customer support

Wi-Fi required and needed throughout exam
Vetted through personal ID scan
Important Notice For MacOS Users
Due to Apple's security features and browser set up, we recommend that you don't take your exam on an Apple computer. If you wish to proceed and want to avoid technical issues during your exam session, watch our step-by-step tutorial below or read more through the link.
OR
Note: There may be additional steps needed to allow ProctorU remote access, however, those can not be completed until the time of your exam. The steps above are for a successful connection before you're with a proctor.
How it works
√ Create account
√ Download Chrome or Firefox
√ Download ProctorU Extension: Chrome or Firefox
√ Confirm Term & Exam
What to Expect
√ Be in a private, well-lit room
√ Clear your workspace
√ Have your photo I.D. ready
X Close all third-party programs
X No non-religious head coverings
X No duplicate computer monitors
A functioning microphone (sometimes web cameras have built-in microphones).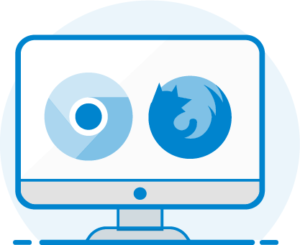 One of the following compatible web browsers (click to download):
Google Chrome (preferred)
Mozilla Firefox
Not Supported
At this time, ProctorU does not support the following; however, we are working on solutions to accommodate every platform.
Google Chromebooks (supported for automated proctoring)
Android tablets (Nexus 7, etc.)
iOS tablets (iPad, iPad mini, etc.)
Linux operating systems
Microsoft Windows 10 in S mode
Microsoft Surface RT
Read More About the Technical Requirements Here