Member Spotlight: Chris M. Giovannielli

The Air Barrier Association of America (ABAA) dives inside the career of Chris M. Giovannielli, Product Manager, Sustainability / Windows and Balcony Entrances for Kawneer Company in Norcross, GA. In this feature interview, learn what made him become an ABAA member, what led him on his career path, and get his perspective on the future of the air barrier industry.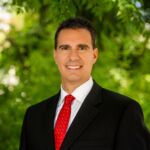 Chris M. Giovannielli

Arconic Building and Construction Systems (Kawneer)
Product Manager for Sustainability / Windows and Balcony Entrances.
24 years with Kawneer Company
Operating as Kawneer North America, the company manufactures architectural aluminum building products and systems for use in commercial and industrial construction. These products include sliding and swing entrances, framing systems for shopping malls and storefronts, hung/sliding and ribbon/fixed windows, building panels, sun control products, and curtain wall systems for stadiums, sports facilities, schools, low-rise offices, and high-rise buildings.  We continue to lead the next generation sustainable buildings by focusing on innovative market solutions like high thermal performance, hurricane resistance and blast mitigation.
Activities/interests:
Tennis, running, golf, along with keeping up with 3 kids
May 2021 graduate from the University of Georgia with my MBA
Name: Chris M. Giovannielli
Title: Product Manager, Sustainability / Windows and Balcony Entrances
Firm: Kawneer Company
City: Norcross, GA
What was the path to your career — how and why did you pursue your profession?
A: I began my career working for a glazing contractor in New Jersey. While there, I learned all about the fenestration systems industry.  I attended William Paterson University and earned a degree in Business Management which ultimately gave me the opportunity to join the Kawneer Company as Product Training Manager, and I have been with Kawneer for over 20 years.
---
Is there anything that you believe everyone in this industry should be working towards?
A:  I believe it is important to continue learning how to be a better communicator with each area of installation that interacts with the air / vapor barriers.
---
What role have peers, mentors, or advisors played in your career? 
A: At every stage of my career, I have made the most of personal and professional development opportunities offered to me.  I've benefited from very valuable coaching while I was in college and during my time in Kawneer.  I've also have had the ability to travel throughout North America to meet with customers to gain additional exposure in each area of window fenestration systems.
---
What led you to become an ABAA member?
A: It was Kawneer's decision to be actively involved in ABAA to become an ambassador for promoting Kawneer's commitment to ensuring a complete systems approach.  Kawneer has taken a proactive approach in architecturally detailing air / vapor barrier systems along with testing these components to the framing systems.
---
Are you involved in any ABAA committees? Do you have any ABAA certifications?
A: Yes, I am active in the QAP Committee and the Curtainwall Interface Committee.
---
How long have you been in the industry?
A: I have been in the fenestration industry for 27 years.
---
What major changes have you seen?
A: One major change is the modularization of framing systems to improve scheduling along with quality control. Another change is the interactive 3D modeling that has significantly advanced our industry in many ways to better facilitate improved detailing and communications between all trades that are connecting air / vapor barriers to Kawneer's framing systems.
---
What traits or skills do you think are necessary to be able to succeed in your industry?
A: I like to keep it simple-time management, organizational and communication skills.
---
Do you have any advice for anyone starting out in your field?
A: On-the-job training with the individuals that are installing our products in the field is the #1 way to learn our industry.  This provides a significant amount of knowledge / exposure to the reality of what is happening on jobsites.  The most important book in any organization or on any job is the installation manual, and it is often the least looked at internally and externally.
---
What do you think the industry will look like in five or ten years' time?
A: The future of construction will focus on efficiency, environmental awareness, sustainability, and jobsite safety.  Construction projects will be incorporating environmental sensors, intelligent machines, mobile devices, and new software applications – increasingly integrated with a central platform of Building Information Modeling (BIM).