PROJECT DETAILS
Architect: SRG Partnership
General Contractor: Hoffman Construction Company
Location: 1580 E 15th Ave, Eugene, OR 97403
Type: New Construction – University Stadium
Value: $200,000,000
Building Area (sq. ft.): 175,965
Total Air Barrier Area (sq. ft.): 51,000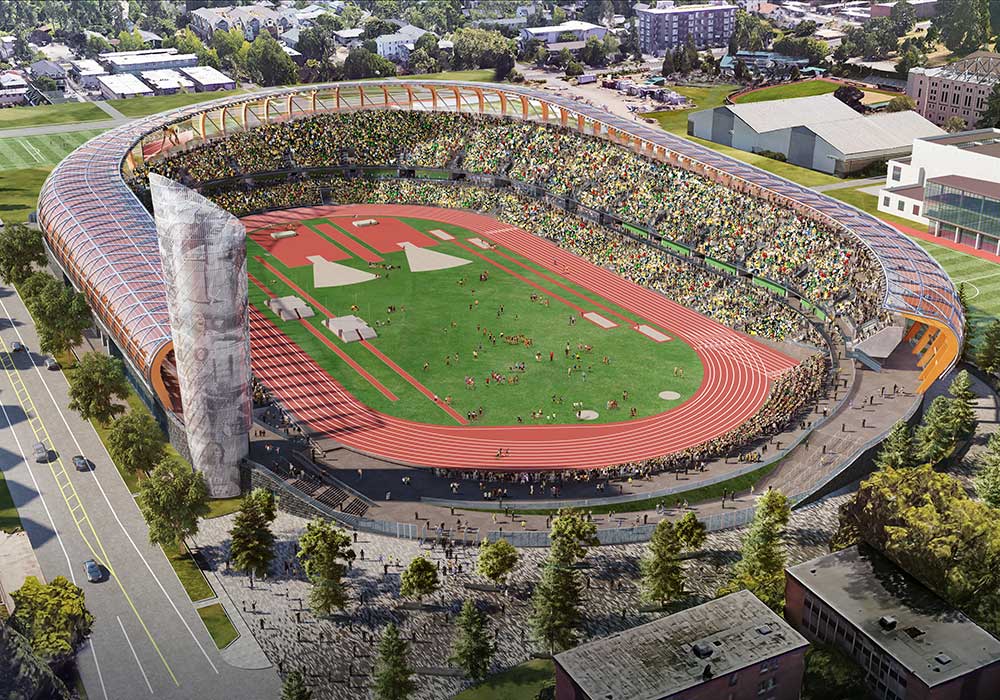 PROPERTY DESCRIPTION
The Hayward Field project is located in Eugene, Oregon and is the "crown jewel" of the University of Oregon's state of the art athletic facilities. This 25,000 seat stadium is considered to be the world's finest track and field facility. The project schedule was fast tracked in order to be completed for the Spring 2020 PAC-12 track and field championships and the U.S. Olympic Team trials in June of 2020. It is also designated to host the 2021 IAAF world track and field championships, which will be coming to the United States for the first time in history. Having an accelerated schedule was only one of the challenges on this project for the building enclosure. It is also located in the Pacific Northwest, which is notorious for its wet weather patterns. WPI applied the PROSOCO RGuard CAT5 fluid-applied air barrier and recommended accessories to approximately 51,000 SF of radius exterior walls which will be clad in pre-stressed concrete ARCIS rainscreen panels.
ABAA CONTRACTOR DETAILS
Accredited Contractor: Western Partitions, Inc.
Air Barrier Installers: Alexander Krivoshapov, James Wallace, Elick Carlton, Avery Carlton, Jeff Anderson, Jacob Anderson and Vladimir Kharlamov